Created on October 5, 2017 10:00 AM
Last Updated on October 5, 2017 10:00 AM
October 5, 2017 10:00 AM
---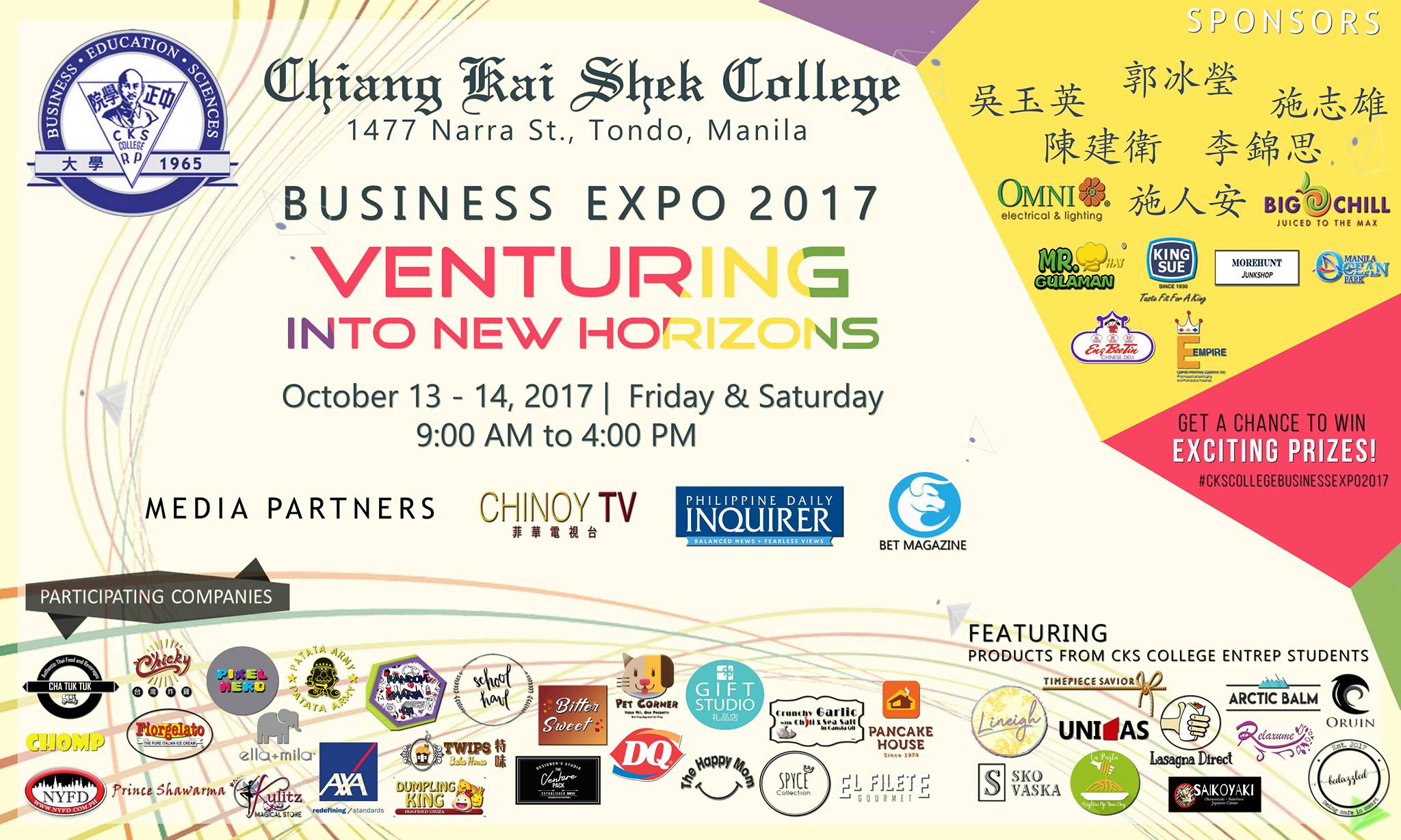 The CKS College School of Business, Accountancy, and HRM, in cooperation with the CKS College Student Executive Council,  the CKS Senior High School Student Government, the Rotaract Club of CKSC, the Junior Management Society, the Junior Marketing Association, the Junior Philippine Institute of Accountants, and the Computer Society shall be holding a Business Expo on October 13 and 14, 2017 at the CKS College Narra Campus. Event hours shall be from 9:00AM to 4:00PM. The Business Expo is open to the public.
The theme for the Business Expo 2017 is "Venturing into New Horizons." CKS College Entrepreneurship students shall showcase products they personally designed and produced. Exhibiting alongside them are Cha Tuk Tuk, chomp, NYFD, Chicky, Fiorgelato, Prince Shawarma, Pixel Hero, Ella Mila, Kulitz Magical Store, Patata Army, AXA Life,Random Mania, School Haul, Twips Bake House, Dumpling King, Bitter Sweet, Venture Pack, Pet Corner, Dairy Queen, Gift Studio, the Happy Mom, Crunchy Garlic, Spyce Collection, Pancake House, and El Filete Gourmet.  The media partners for the said event are ChinoyTV, the Philippine Daily Inquirer, and BET Magazine.
Visitors shall be given a chance to win prizes from the event's sponsors. The sponsors of the CKS College Business Expo 2017 are Mrs. Margarita Go, Ms. Aurora Go, Mr. Jimmy See, Mr. Benjamin Tan, Ms. Joyce Dy, Mr. Reynaldo Sy, Omni Electrical Lighting, Big Chill. Mr. Gulaman, King Sue, Morehunt Junkshop, Manila Ocean Park, Eng Bee Tin, AXS Wrap Packaging Solutions, Inc., and Empire Printing Company, Inc.