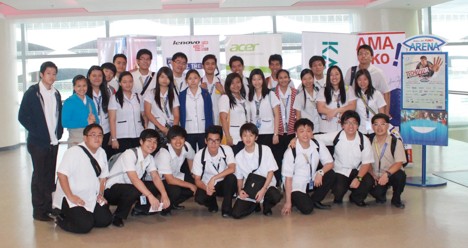 Last September 24, 2013, members and non-members of the CKSC-FBAS Computer Society attended the seminars of TECHTUTOR 5 entitled "The Gamification of Education" held at the SM Mall of Asia ARENA.
The topies covered by the event are Breakthrough Technologies of 2012-2013, The Gamification of Education, Augmented Reality: Revisited and Security is the new 'S' in Success, Wave of the Future - What to be excited about with Technology?, Windows 8.1 – More than just a revision and Office 365: Bringing the benefits of cloud productivity for free to studentsby a representative of Microsoft, The Power of your Voice - Be Creative,and The Art of Voice Acting for Animation and Gaming. The speakers were Mr. Jerry Liao and Mr. Pocholo Gonzales.
Techtutor 5 is a joint undertaking among Acer, AMA University, Brother, Canon, Dell, EnGenius, Fuji Film, Globe, HP, I Secure Networks Inc., Kaspersky lab, Microsoft, Samsung, Sony, and Wordtext Systems Inc.