CKS College News
The Chiang Kai Shek College Wong Chun Seng Memorial Preschool announced its Class of 2014 with a full-spread ad in the Chinese daily, World News (世界日報) on April 23, 2014.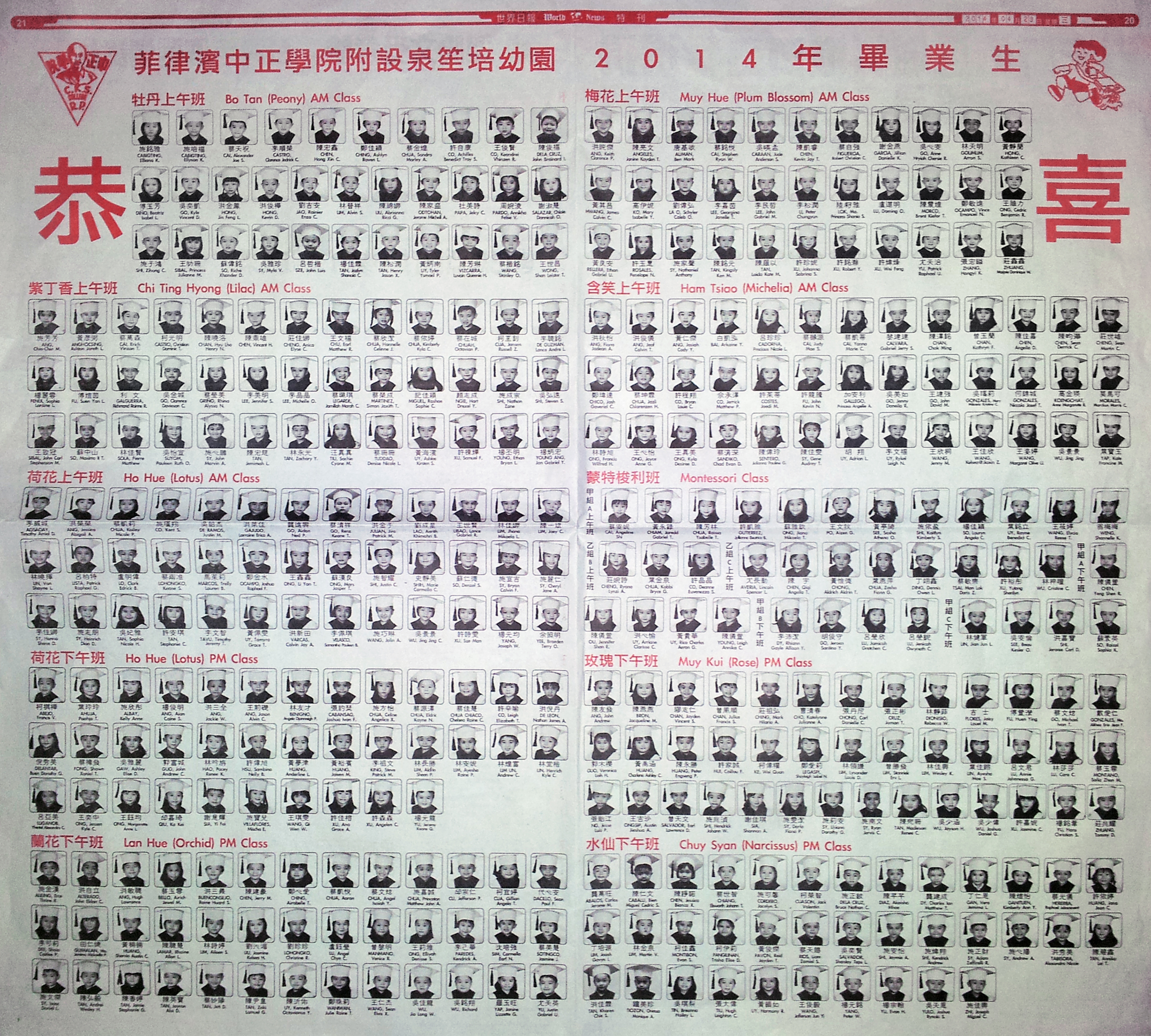 Congratulations, little graduates! We look forward to your next adventures.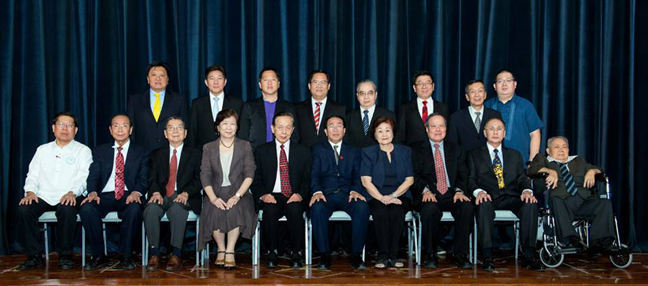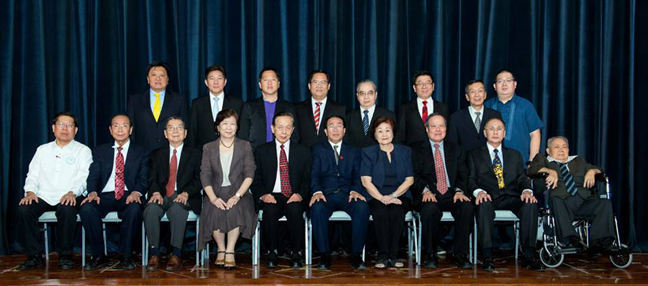 (菲律濱中正學院董事會訊)本董事會2013-2014年三位立案董事邵建寅、陳義維及黃俊人任期屆滿,遵章於今年二月廿四日舉行2014-2019 年三位立案董事選舉,邵建寅、陳義維及黃俊人三位勞苦功高,對本會貢獻良多,結果獲一致票當選。此外,黃呈輝名譽董事長於去年十二月辭世,其未竟任期經出席全體董事決議,推選李賢冊接任。
  茲將2014-2015 年十五位獲選立案董事名單錄下:
邵建寅、陳著遠、章肇寧、王賜榮、張秀金、林瑩鏡、尤扶西、陳義維、黃俊人、戴良聚、郭樹垣、許威順、許峻榮、潘露莉、李賢冊。
    三月十日進行複選,新屆職員亦順利產生。  
  現任董事長章肇寧目前為菲華商聯總會參議委員、暨菲律濱華人銀行家聯誼會會長,與菲律濱六蘭堂宗親總會決策顧問一職,且擔任多家企業與公司董事長,如State Properties、State Investment Trust、Consolidated Mines、State Motor等。
  章肇寧不僅長袖善舞,且為人虛懷若谷,謙遜圓融,熱愛母校,從副董事長、名譽副董事長至董事長,一路走來輸財又出力。經董事會各董事全票一致通過,蟬聯中正學院董事會董事長一職,繼續主掌董事會。
  除董事長章肇寧外,原執行副董事長張秀金、副董事長林瑩鏡與尤扶西等副座多年以來積極參與會務,協助董事長推動各種方案,貢獻頗多,有目共睹,仍留任原職位,共同為發展中正學院院務而努力。
  現任文書曾煥賢律師熟悉法律,克盡職守,仍委任為新屆文書。
  茲將新屆職員名單錄下:董事長章肇寧、執行副董事長張秀金、副董事長林瑩鏡、副董事長尤扶西、文書曾煥賢、正財政黃俊人、副財政許威順、正稽核陳義維、副稽核郭樹垣。
  會中並一致票議決通過聘請李治民、陳著遠、邵建寅為名譽董事長,王賜榮為名譽副董事長。
  本屆獲選立案董事皆熱愛母校,並多數服務董事會經年,定能齊心協力,繼續輔佐章董事長出謀獻策,引領中正學院走向卓越,走向巔峰!
The Chiang Kai Shek College Language Center will open the second batch of Short Term Language Courses on September 14 ofthisschoolyear. These courses will strengthen and develop language skills, which are useful in daily life; promoting interpersonal relationships, coming in handy in trade and commerce.
The Language Center offers regular classes (small class) scheduled every Saturday, 8:30AM-11:30AM or 1:30PM-4:30PM. In addition to this, special classes (good for 2-4 persons) and one-on-one tutorial classes can be arranged around more flexible schedules.
The courses offered are Mandarin Proficiency Courses, Conversational Chinese, Business Chinese, HSK (Chinese Proficiency Test—Hànyǔ Shuǐpíng Kǎoshì) Remedial Class; and English Proficiency, English Conversation, Business English. Additionally, the Language Center also offers classes for the preferred dialect of the Filipino-Chinese community—Fookien, and the widely used language in this country—Filipino.
Registration is ongoing. At the end of the course, the enrolees will receive a certificate. Interested parties may register at the Chiang Kai Shek College Language Center, 1477 Narra St., Tondo, Manila. Telephone number is 252 3668.
December 16, 2013 11:04 AM
---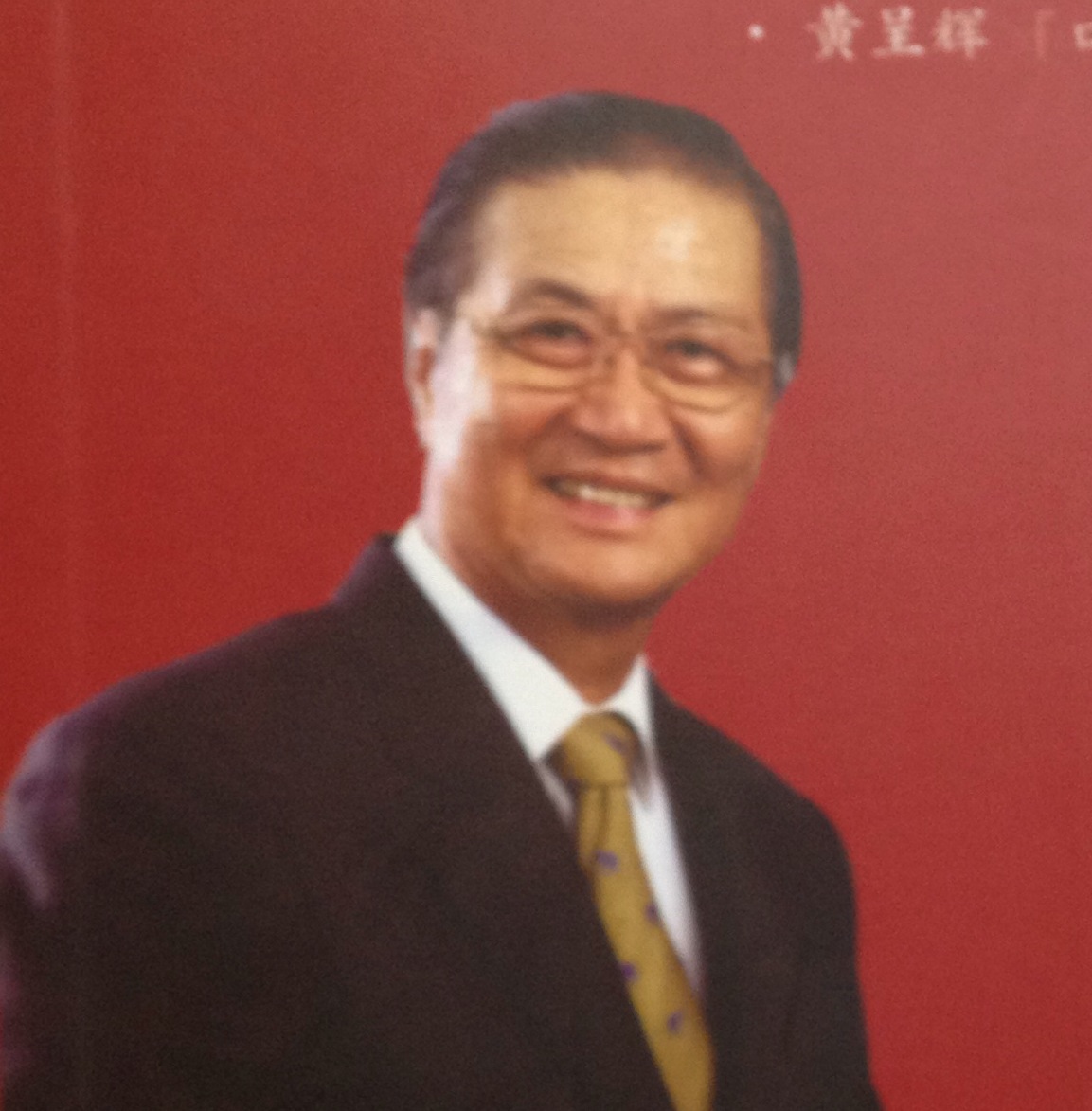 CKSC Honorary Chairman, former Ambassador John K.C. Ng passed away last Saturday at the age of 75. Mr. Ng was the donor of the school's 11 hectare expansion campus in Cavite. CKSC Trustees, Administrators, Teachers and Alumni will pay tribute to the late Chairman Ng in a necrological ceremony on December 17, Tuesday, at 7 p.m. at the CKSC Auditorium. Interment will be at the Heritage Park on December 20, Friday.
本院名譽董事長、校友總會指導員黃呈輝校友,不幸於二零一三年十二月十四日(星期六)下午七時三十七分 逝世於紅衣主教醫院 (Cardinal Santos Medical Center),享壽七十有五高齡,哲人其萎,軫悼同深。現停柩於菲律濱中正學院五樓中正紀念堂,設靈至十二月十七日(星期二) ,
十八日(星期三)上午五點移柩於達義市傳統紀念墓園(Heritage Memorial Park) 附設殯儀館七、八、九號靈堂,設靈至十二月二十日(星期五),
於二十日(星期五)上午十時舉行天主教彌撤儀式,並出殯在該館火化堂火化。
 本院訂於十二月十七日(星期二)下午七時在中正紀念堂(五樓)其靈前舉行獻花祭禮及追思會。
凡本院董事會成員、全體師生、各屆校友屆時務希準時前往參加獻花祭禮及追思會,以表哀悼。
菲律濱中正學院董事會
菲律濱中正學院
菲律濱中正學院校友總會
         12-15-2013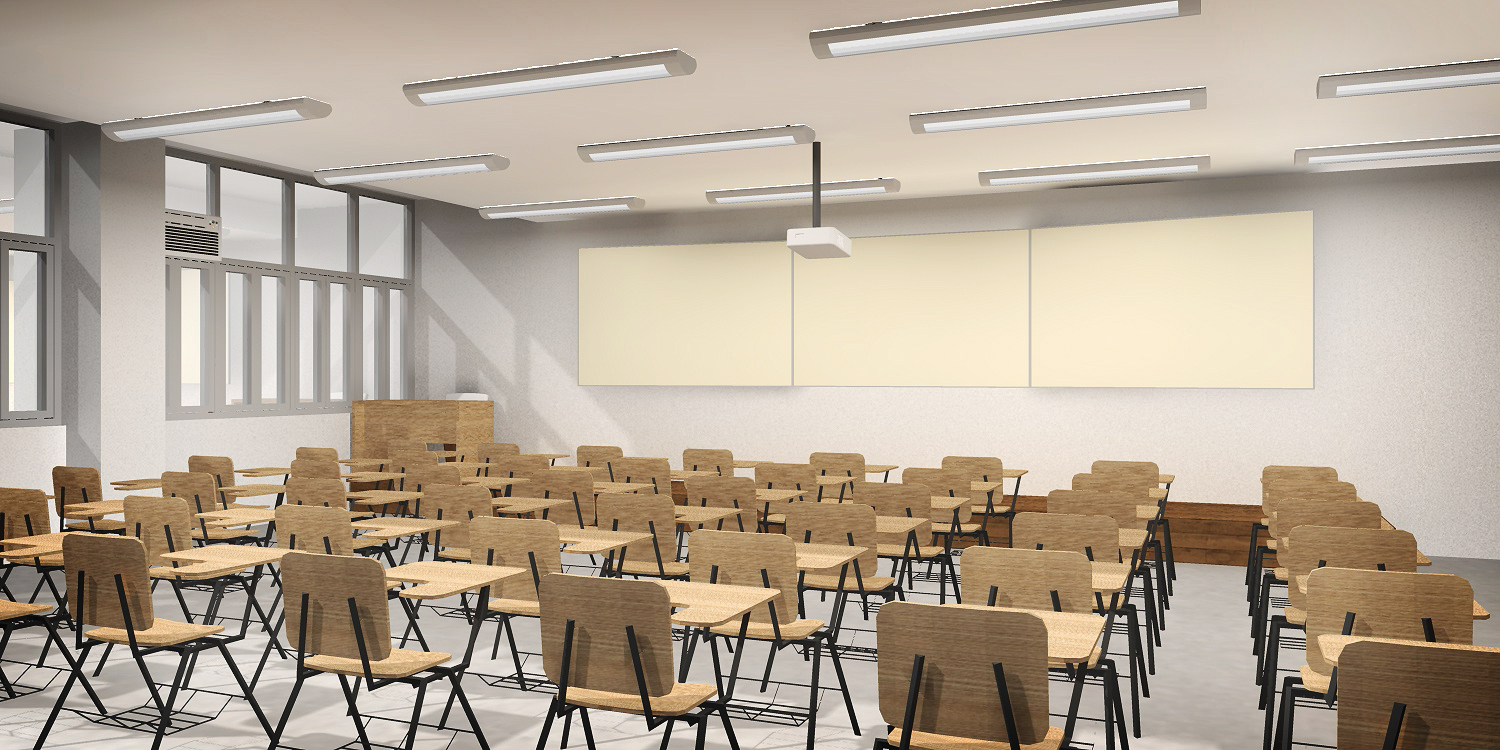 通告
茲為持續提高教學水平及改善設備,中正學院2013-2014新學年度各部開學日期將作如下的變更:
| | |
| --- | --- |
| 6月13日 (星期四): | 培幼園 |
| 6月10日 (星期一): | 小學部、中學部 |
| 6月5日 (星期三): | 大學部 |
本院 Padre Algue 總部將進行的裝修及更新的設備包括:
中學部及小學部全部課室的黑板換成白板。
為安全計,課室及辦公室安裝閉路電視。
中學及小學全部課室安裝多媒體投影機。
部份課室及通道重新裝修及油漆。
培幼園課室及日托中心重新裝修及佈置。
Announcement