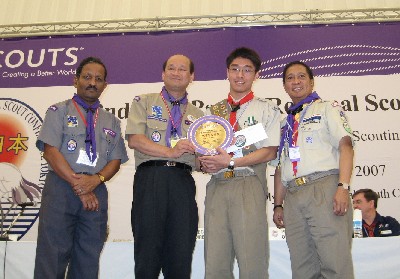 A Filipino scout was chosen as one of three Outstanding Scouts of the Asia-Pacific Region for 2007. Rover Scout Bruce Willis W. Sing of Chiang Kai Shek College actually topped the competition, besting candidates from more than 30 countries in the Asia and the Pacific. The awarding ceremony was held last October 23, 2007 (Tuesday) at Tokyo, Japan during the Asia-Pacific Regional Scout Conference.
The competition is held every three years. Bruce Willis W. Sing, 18 years old, was chosen as this event's Most Outstanding Scouts over two other winners from Hong Kong and the Maldives. Other finalists were from India and Korea. Only the top five finalists from more than 30 national candidates, chosen by a panel of judges from among the candidates during the preliminary screening in Kuala Lumpur, Malaysia last August, were sent to attend the final interview and screening in Japan, and Scout Bruce Willis Sing easily stood out in the competition.
Scout Sing was chosen by the Boy Scouts of the Philippines after he topped the national search for Ten Outstanding Boy Scouts of the Philippines in 2005. He was also the 2006 winner of the Most Outstanding Filipino-Chinese Students of the Philippines. During his high school years, he has won more than 300 international, national, and local awards in Scouting, swimming, academics, and many other forms of competitions. While serving as a volunteer junior assistant Scoutmaster at Chiang Kai Shek College, he is also currently studying at Ateneo de Manila University taking up Bachelor of Science in Chemistry with Materials Science and Engineering, where he is also a swimming varsity team member.
Throughout the participation of the Boy Scouts of the Philippines in this search, it has never failed to take home the award. In 2001, another Chiang Kai Shek College senior scout, Marvin Boni Ang Gaw Go, also topped the competition held in New Delhi, India. In 2004, Glenn Sartillo of Nueva Ecija also made it in the top three. This year, Scout Bruce Willis Sing emerged again number one in the competition, giving much honor for the country.
Bruce Willis Sing was accompanied to the competition by the BSP national President, Makati City Mayor Jejomar C. Binay. He was ably supported to the competition by his Alma Mater, Chiang Kai Shek College through its president, Dr. Bee Ching Ong Kian Koc and his Scoutmaster, Judelio Yap. His victory is not only for his own glory, but also for his school, the Scouting movement, and more importantly, for his country.