CKS College News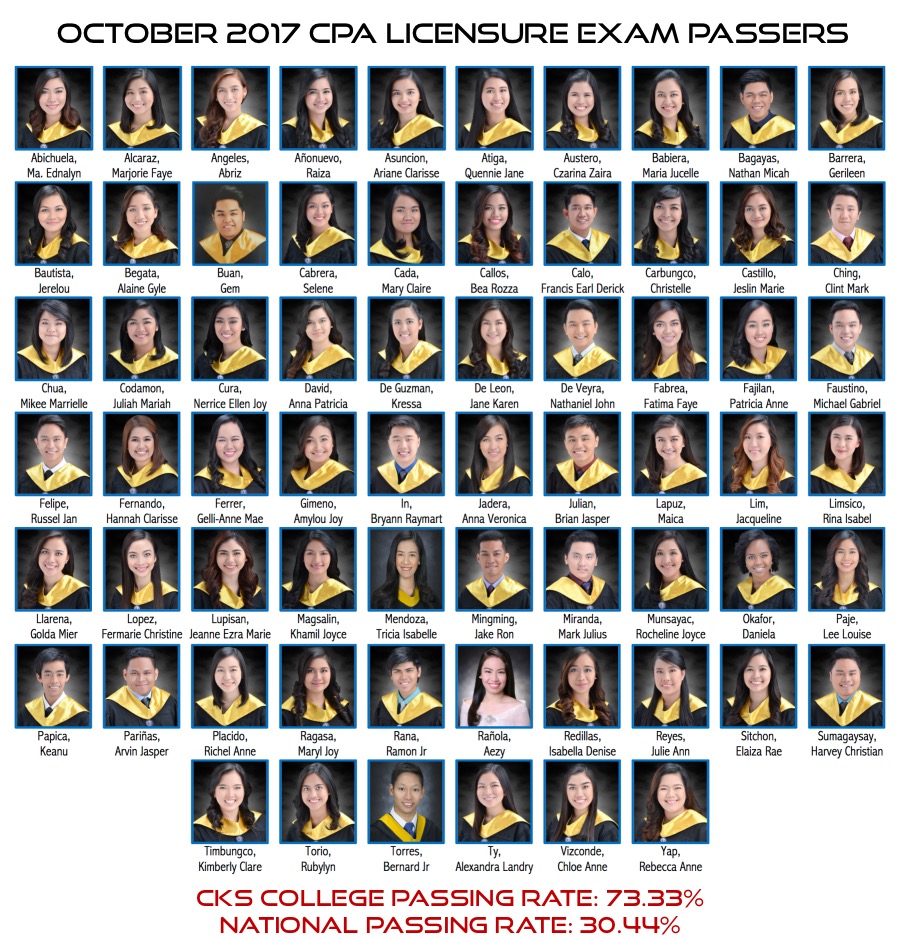 Chiang Kai Shek College continues to move forward in its pursuit of excellence as it maintains a strong performance in the CPA Licensure Exams (CPALE). Last October 2017, the school earned a passing rate of 73.33%, compared to the national passing rate of 30.44%. The passing rate for CKSian first-takers is 76.83%. With 92 takers this October 2017, Chiang Kai Shek College's passing rate is 7th highest among schools with more than 50 takers.
In May 2017, CKS College earned a passing rate of 70.59%, as compared to the national passing rate of 35.31%. The College consistently maintains a passing percentage that is higher than the national passing percentage in the licensure exam deemed the toughest in the country.
| | | |
| --- | --- | --- |
| CPALE | National Passing Rate | CKS College's Passing Rate |
| October, 2013 | 40.84% | 80.00% |
| July, 2014 | 19.98% | 60.00% |
| October, 2014 | 37.02% | 50.00% |
| May, 2015 | 35.78% | 45.71% |
| October, 2015 | 41.06% | 67.61% |
| May, 2016 | 42.84% | 69.23% |
| October, 2016 | 36.48% | 52.50% |
| May, 2017 | 35.14% | 70.58% |
| October, 2017 | 30.44% | 73.33% |
The PRC-Board of Accountancy administered the CPA licensure exams on October 7, 8, 14 and 15, 2017, and released the results on November 2 and announced that 4,511 out of 14,816 takers passed the exams. The four-day exam covered the following subjects:  taxation, regulatory framework for business transactions, auditing, financial accounting and reporting, management advisory services, and advanced financial accounting and reporting.
The new CKSian CPA's are:
Abichuela, Ma. Ednalyn Tapaaganao
Alcaraz, Marjorie Faye Montero
Angeles, AbrizDagani
Añonuevo, Raiza Cabasa
Asuncion, Ariane Clarisse Cruz
Atiga, Quennie Jane Urriza
Austero, Czarina Zaira Segotier
Babiera, Maria Jucelle Sosing
Bagayas, Nathan Micah Adora
Barrera, Gerileen Ramos
Bautista, Jerelou Limcaoco
Begata, Alaine Gyle Agato
Buan, Gem De Guzman
Cabrera, Selene Tan
Cada, Mary Claire Aguilar
Callos, Bea Rozza Avena
Calo, Francis Earl Derick Angeles
Carbungco, Christelle Castro
Castillo, Jeslin Marie Francisco
Ching, Clint Mark Encinares
Chua, Mikee Marrielle Guiam
Codamon, Juliah Mariah Beltran
Cura, Nerrice Ellen Joy Songsong
David, Anna Patricia Arroyo
De Guzman, Kressa Velasco
De Leon, Jane Karen Castillo
De Veyra, Nathaniel John Cachapero
Fabrea, Fatima Faye Flores
Fajilan, Patricia Anne Urcia
Faustino, Michael Gabriel     
Felipe, Russel Jan Adducul
Fernando, Hannah Clarisse Gono
Ferrer, Gelli-Anne Mae Reyes
Gimeno, Amylou Joy Palad
In, Bryann Raymart Rabang
Jadera, Anna Veronica Salinas
Julian, Brian Jasper Esparas
Lapuz, Maica Cabañeros
Lim, Jacqueline Chee
Limsico, Rina Isabel Bustos
Llarena, Golda Mier Iglipa
Lopez, Fermarie Christine Gabres
Lupisan, Jeanne Ezra Marie Catedral
Magsalin, Khamil Joyce Vega
Mendoza, Tricia Isabelle Rendor
Mingming, Jake Ron Palattao
Miranda, Mark Julius Sibug
Munsayac, Rocheline Joyce Aguinaldo
Okafor, Daniela Morales
Paje, Lee Louise De Leon
Papica,Keanu Aquino
Pariñas, Arvin Jasper Manuel
Placido, Richel Anne Cheng
Ragasa, Maryl Joy Magbojos
Rana, Ramon Jr Del Finado
Rañola, Aezy Canlas
Redillas, Isabella Denise Panganiban
Reyes, Julie Ann Lee
Sitchon, Elaiza Rae Castro
Sumagaysay, Harvey Christian Batisla-on
Timbungco, Kimberly Clare Jacildo
Torio, Rubylyn Sison
Torres, Bernard Jr Roldan
Ty, Alexandra Landry Domondon
Vizconde, Chloe Anne Endaya
Yap, Rebecca Anne
Over the years, CKS College has produced various CKSian topnotchers in the CPALE. In May 2015, CKSian Eunice Millicent Li ranked first in the CPA board exams, with a score of 92.29%. Benson Kotah ranked 6thin May 2012, and Jan Marcus Tang ranked 2nd in May 2010. Other CKSian topnotchers are Ms. Elaine Mary Co (15th Placer, May 2006), Mr. Ferdinand Tan (16th Placer, May 2002), Mr. Mark Anthony Ong (16th Placer, October 2001), Mr. Gilbert Lim (16th Placer, October 1996), Ms. Caroly Yu (9th Placer, May 1987), and Mr. Hilario Tan (3rd Placer, October 1986).