Classroom Assignment for Grade School and Junior High School (SY2017-2018)
Note: MYP will utilize classrooms on the third floor of the Memorial Building (floor of Ching Ban Lee Memorial Hall).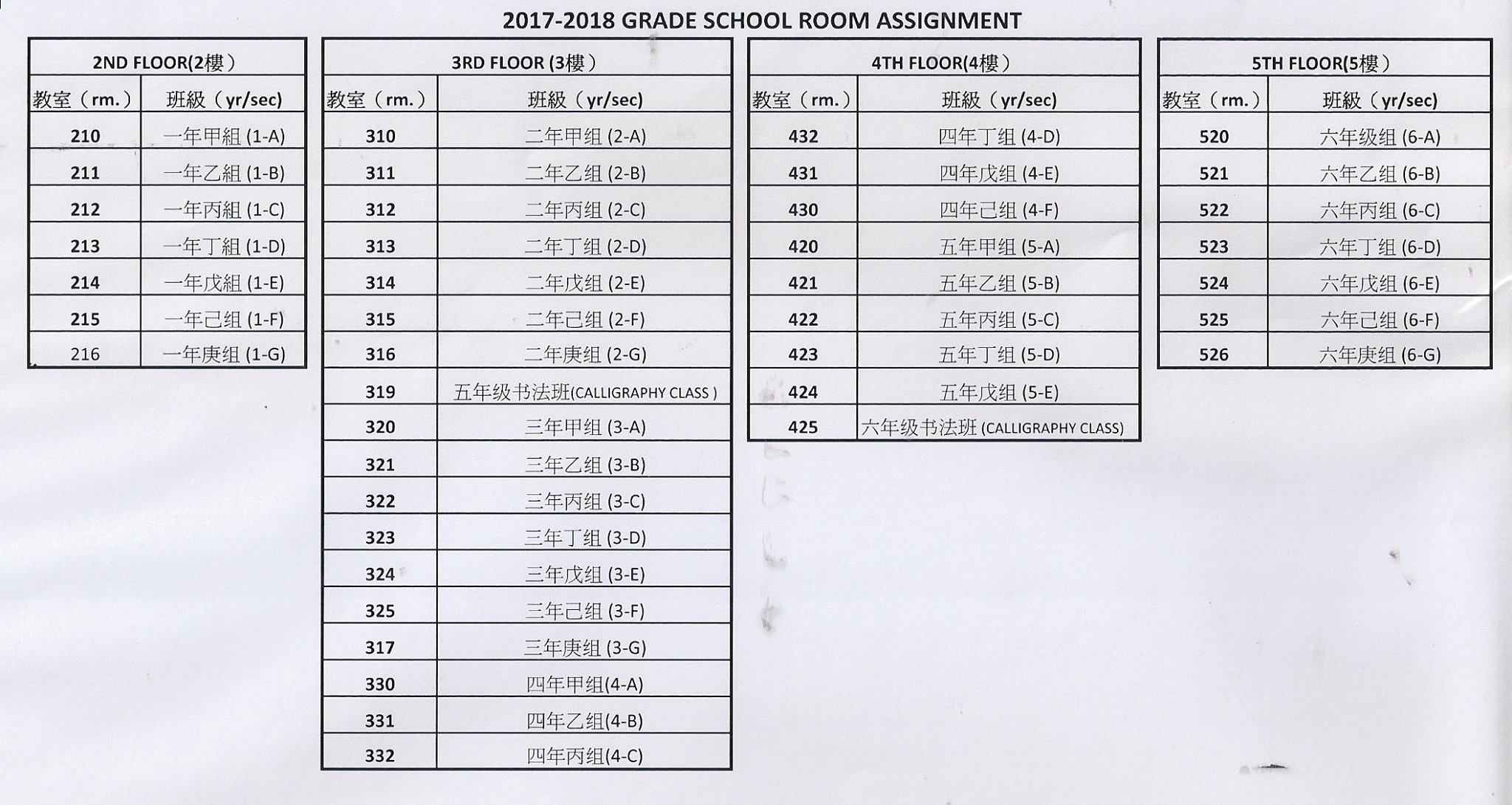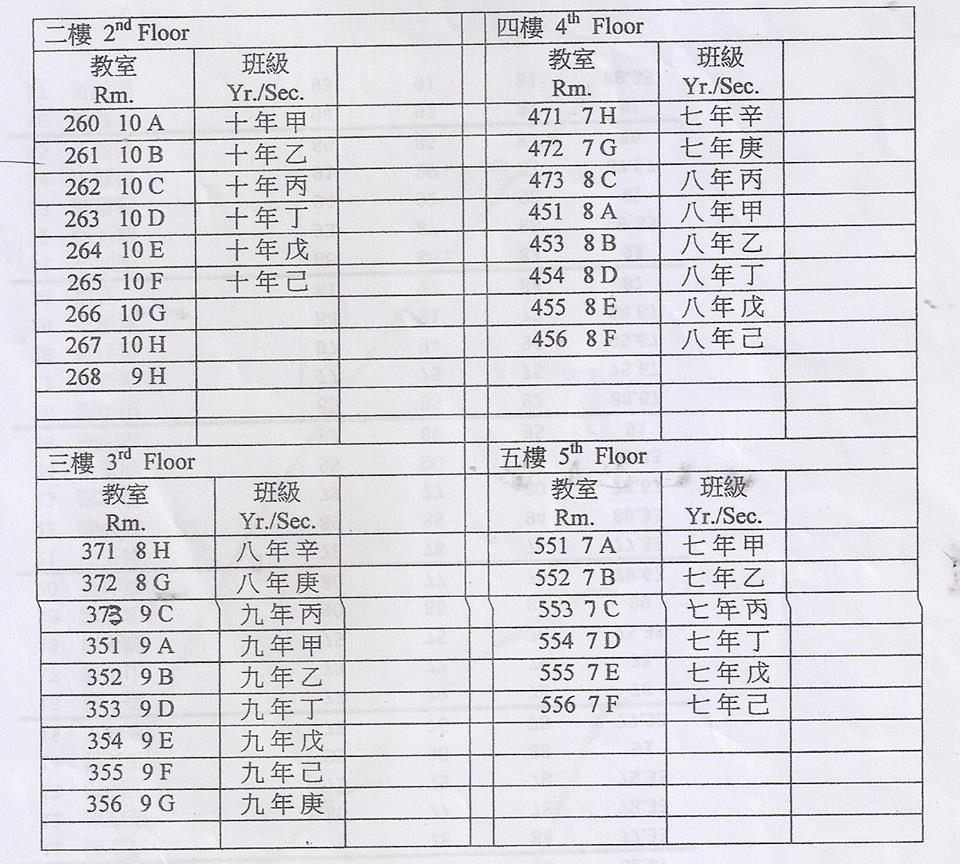 Class Schedule for Grade School and Junior High School (SY 2017-2018)
Note: MAPE/MAPEH classes start after afternoon homeroom classes. 
MYP classes follow the Junior High School schedules.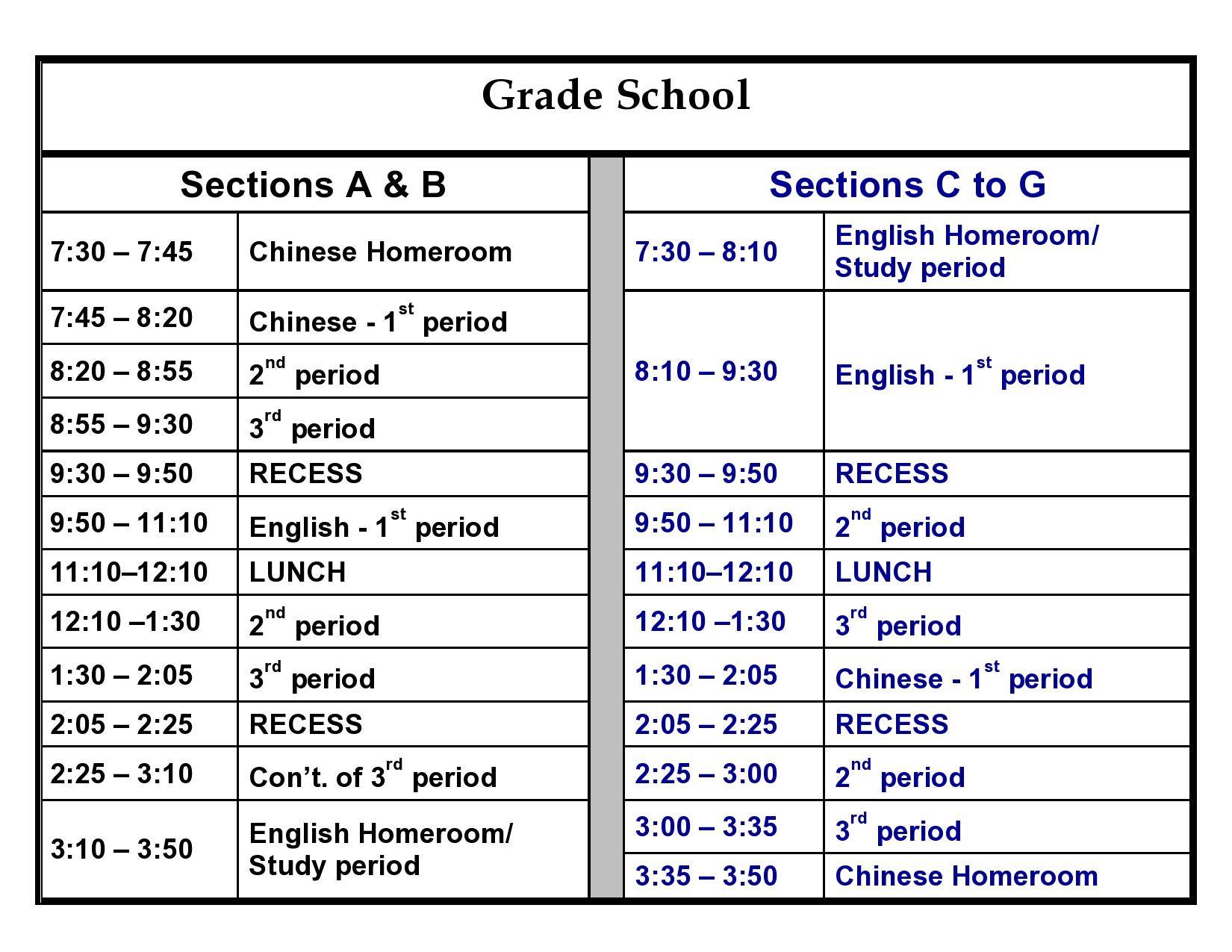 To: Parents of CKS College Grade School, Junior and Senior High School, and IB-MYP Students
This is to invite the above-mentioned parents or guardians to attend the parents' orientation on June 28, 2017 (Wednesday) at the CKS College Main Campus Auditorium.
Please be guided accordingly with regards to the schedule below:
• Grade School – 8 a.m. to 9:30 a.m.
• Junior High School and MYP – 9:30 to 11: a.m.
• Senior High School – 11:00 a.m. to 12:00 noon
Pertinent information on academics and student services shall be discussed in both English and Chinese Instructions.
Your presence is highly appreciated.
各位家長,您好!
本校6月28日(星期三),在主校區中正紀念堂(五樓)舉行的「家長說明會」,時間安排如下:
上午8時至9時半:小學
上午9時半至11時:初中、國際文憑中學課程MYP
上午11時至12時:高中
議題包含中英文部學習課程,以及學生事務種種。
非常期待您能來參加!
A gentle reminder to all our dear CKS College-Preschool & Kindergarten Department parents: schedule this Phase-In Week June 27-30, 2017 (Tue-Fri) is 9:00-11:00 A.M. (AM classes) and 1:00-3:00 P.M. (PM classes). Our Kindergarteners have whole day classes.
Starting next week July 3, all levels will go on the ff. regular schedule:
Wong Chun Seng Memorial Preschool:
Pre-Nursery: 8:00-10:30 A.M.
Nursery: 8:00-10:45 A.M. (AM Class) | 1:00-3:45 P.M. (PM Class)
Pre-Kindergarten: 8:00-10:50 A.M. (AM Class) | 1:00-3:50 P.M. (PM Class)
Kindergarten: 8:00-11:00 A.M. and 1:00-4:00 P.M.
CKS College Montessori: 
all levels: 8:00-11:00 A.M. (AM Class) | 1:00-4:00 P.M. (PM Class)
*Note: Montessori Kindergarten is whole day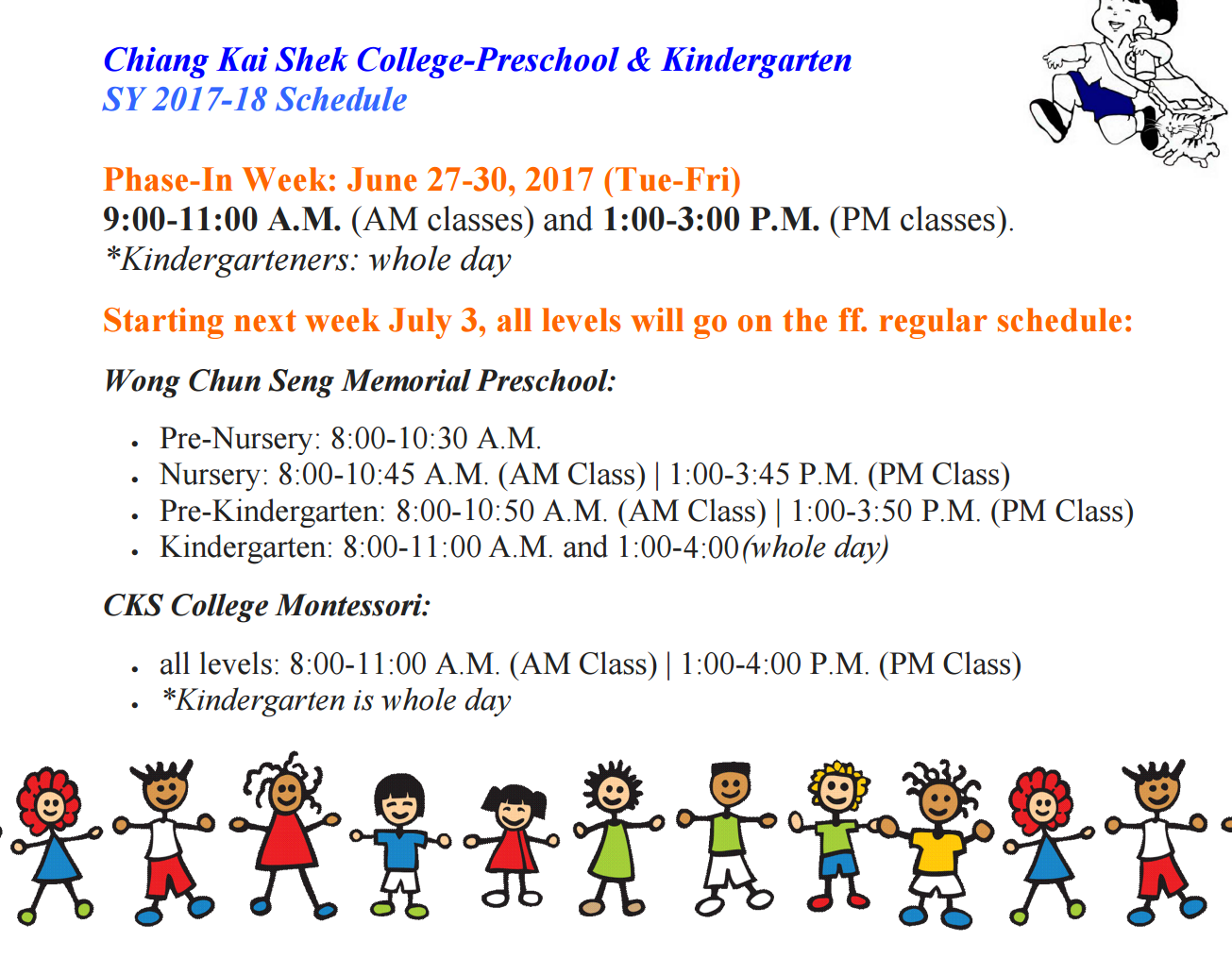 家長們,
學生需要在校內督課者,6/27(星期二)起須到中學部和小學部訓導處登記。
Dear Parents,
Students' registration for the In-house Mentoring Program starts on June 27, 2017 (Tuesday) in the Junior High School and Grades School Discipline Office.