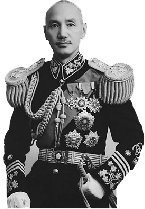 1939
Initially offering a six-year Chinese program and four-year English program, Chiang Kai Shek High School is established in Manila with a student population of 273.

The school is named after Generalissimo Chiang Kai-Shek.
 1942
World War II; the school sustains damage.

14 student and teacher patriots aiding underground activities are killed.


1945

June - Acting principal Huang Chi Hwa opens five review classes for juniors and seniors; leaves for China in October.

November - Mr. Wong Chun Seng is appointed principal

December - School reopens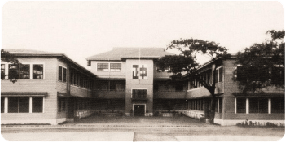 1948
The school moves to its present site on Padre Algue Street, Tondo, Manila with close to 1,000 students.
1955
The Board of Trustees approves the offering of a two-year teacher training course to train local Chinese teachers.
1956

March - Principal Wong Chun Seng passes away.

May - Mr. Yu Khe Thai is appointed principal; Dr. Pao Shih Tien is appointed vice principal.
1958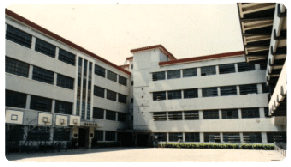 The Wong Chun Seng Memorial Preschool is established.
1959

Principal Yu retires.

Dr. Pao Shih Tien is appointed principal.
1965
The school becomes Chiang Kai Shek College, offering two four-year college courses: Bachelor of Secondary Education, majors in 1) Chinese Literature and History, and 2) General Education.
1966
The College offers Bachelor of Science in Commerce program with majors in 1) Accounting, 2) Management, and 3) Banking and Finance.
1968
The school establishes the Elementary Course; thus, it becomes an institution offering complete education from preschool to college.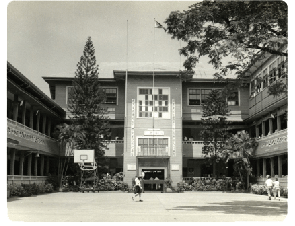 1973-1976

All Chinese schools in the Philippines are Filipinized by virtue of Presidential Decree 176. Dual curriculum is abolished, and the teaching of Chinese is reduced to two hours every day.
1979

Dr. Pao retires.

Dr. Jimmy Su takes over as president.
1985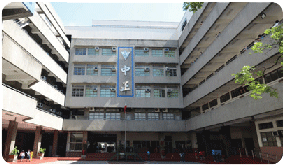 Renovation of school's Main Building (administration and faculty offices; elementary classrooms) to reinforced concrete structures
1989

Dr. Su retires.

Mr. Chien Yin Shao is appointed president.
1990
The school establishes the Language Learning Center.
1992
College now offers:
1) Bachelor of Science in
          Computer Science
          Accountancy
          Commerce
2) Bachelor of Secondary Education
1994

Mr. Shao retires.

Mrs. Joan Sy Cotio takes over as  president.
1997
Construction of ten-storey college building on Narra Street commences.

College offers graduate programs:    

Master in Business Administration (MBA)
Master of Arts in Education (MAEd)
1999
College classes move to the campus at 1477 Narra Street.
2000

The High School Department is granted Level I Accreditation Status by the Philippine Accrediting Association of Schools, Colleges, and Universities (PAASCU), an organization with the most rigid quality education standards in the country and one of the three founding members of the Federation of Accrediting Agencies of the Philippines (FAAP).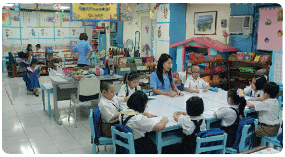 College offers Bachelor of Science in
  1. Information Technology 
  2. Information Management
College student population is now 1,153.

Wong Chun Seng Memorial Preschool offers Montessori classes.
2001
The High School Department is granted Level II Accreditation Status by the PAASCU.
2003
The Grade School Department is granted Level I Accreditation Status by the PAASCU.
2004
High School Chinese Instruction Department offers multimedia, computer-assisted classroom instruction.

College offers Bachelor of Science in Nursing.
2007

Mrs. Cotio retires.

Dr. Bee Ching Ong Kian Koc is appointed CKS College president.

The Grade School Department is granted Level II Accreditation Status by the PAASCU.

The Language Center (formerly Language Learning Center) moves to the Narra campus. It offers short term courses in Hokkien, Mandarin, English, and Filipino.
2008
College offers Bachelor of Science in Hotel and Restaurant Management.
2013
Dr. Ong Kian Koc retires.

Dr. Dory Poa is appointed CKS College president.

Implementation of the Department of Education's K to 12 Basic Education Program 

In compliance with the entry-age requirement of K to12, the school adopts a three-year transition program. During the transition phase, academic requirements essential for four (4) grade levels will be covered in three (3) academic years (2013-2016).
2014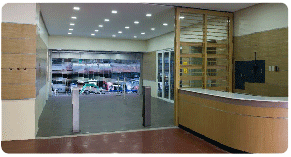 Renovation of Main Campus facilities:
Ground floor and basement canteens

Ground floor cafe

Mezzanine book and supplies store

Mini food court on Pao Shih Tien Hall's ground floor

Main Administrative Office

Main Gate

Drainage systems, basement sump pumps, and ground floor spaces for better damage control during rainy seasons and flooding
2015
School offers Senior High School  (Grades 11 and 12) programs:

Academic Track

 Accountancy and Business Management (ABM)
 Humanities and Social Sciences (HumSS)
 Science, Technology, Engineering, and Mathematics (STEM)
Sports Track
Technology, Vocational, and Livelihood Track

Information and Communication Technology (ICT)
Arts and Design Track

Arts Production (Visual Arts, Media Arts) and Performance Arts (Music)

Renovation continues:

Administrative offices
Faculty, mezzanine offices
Grade School Library
Classrooms and hallways
Quadrangle
New wash rooms on ground floor Memorial Building
Chiang Kai Shek is a non-stock, non-profit and non-sectarian private school whose primary objectives are to
form and train educated, competent leaders for the developing society;
develop a citizenry prepared and strengthened for nation-building;
serve as nucleus for the interflow of Eastern and Western culture; and
serve as a working force in the enhancement of Filipino-Chinese friendship and mutual understanding.
Ideally, CKSC education helps shape the student's potential to the fullest as a human being by tapping his/her innate talent and by inculcating love of country and respect for rules and order, without ignoring the enriching value of internationalism.
To carry out these goals, CKSC challenges the members of its academic community to lead their lives along four Confucian virtues 禮 (li) - propriety, 義 (yi) - righteousness, 廉 (lian) - incorruptibility, and 恥 (chi) - honor.
Concomitant to attaining these values are the cultivation and sustenance of one's 德 (de) - morality, 智 (zhi) - wisdom, and 體 (ti) - physical well being, so as to foster 群 (qun) - unity. Ultimately, such desiderata help create in the CKSC students/graduates sense of reaching out for 美 (mei) beauty.
CKSC further believes that
true education aims at the formation of a person whose ultimate end is to be of service to the society to which he/she belongs
young people must be helped to develop harmoniously their physical, moral, and intellectual endowments so that they may gradually acquire a mature sense of responsibility in striving endlessly to form their own lives properly and in pursuing true freedom as they surmount the vicissitudes of life with courage and constancy
all educational institutions shall inculcate patriotism and nationalism, foster love of humanity, respect for human rights, appreciation for the role of national heroes in the historical development of the country, teach the rights and duties of citizenship, strengthen ethical and spiritual values, develop moral character and
personal discipline, encourage critical and creative thinking, broaden scientific and technological knowledge, and promote vocational efficiency (Philippine Constitution).
its students should be for the manifold demands of social, scientific, and technological efficiency needed in the field of business, arts, and sciences, and should temper this training with the inculcation of genuine love for work and the virtues of a value-based individual.